What size dog bed should you get for a puppy?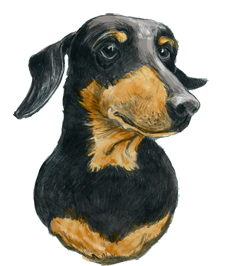 If you have a new puppy, or will have one soon, you might be busy buying all the supplies you need to help take care of them, including a dog bed. But one question trips many puppy owners up – how big a dog bed should I get?
A smaller dog bed is just the right size for your little puppy right now, but they'll quickly outgrow it, making it obsolete. A full-size dog bed is too big for your little puppy right now, but once they grow into it they'll use it for years.
Which is better for a puppy?
Here's what to consider when you're picking out a dog bed for your puppy.

Should I Get a Small Dog Bed or Full-Size Dog Bed for My Puppy?
There is no right or wrong answer here. But some things to consider include your dog's breed, your potty-training plans, and your budget.
Your Dog's Breed
Your dog's breed matters because while all puppies start off small, some grow into small dogs and others grow into huge ones! A Great Dane puppy, for example, weighs just 5-8 pounds at 4 weeks old, but a whopping 70-105 pounds at 6 months! So buying a small dog bed to suit your 8-pound Great Dane won't last you very long and probably isn't a good use of money. You'll need a bigger dog bed sooner than later. On the other hand, a chihuahua weighs just about a pound at 4 weeks old and tops out at about 4 or 5 pounds when fully grown. So a small dog bed might be the right size from the start.
Potty Training Plans
If you're potty training your puppy, you can expect some accidents along the way. This is something to consider before spending a lot of money on dog beds. One option is to get a dog bed with a fully washable cover and mattress like the Snoozer Forgiveness line of dog beds and crate pads so that when accidents happen, the dog bed is easy to clean. (Many dog beds come with a removable and machine washable cover but the mattress inside isn't as easy to wash.) Another option is to get two beds. One smaller dog bed for when your puppy is little, knowing there will be accidents, and then one larger dog bed for when they're grown and fully house trained.
Your Budget
Dog beds come in all shapes, sizes, colors, and price points. You may have the budget to purchase multiple dog beds in various sizes to suit your puppy's size as they grow, or you may want to spend your money on just one high-quality dog bed that your puppy can grow into and use for years to come. At Snoozer, we're proud to offer premium dog beds made of high-quality materials and hand sewn in the USA that can last for years and that dogs love! 
Should I Get a Crate Instead of a Dog Bed?
You can also sidestep the entire question by opting for a crate instead of a dog bed during the potty training months while your puppy is still small. Using a crate during potty training can be very helpful, as dogs have a natural instinct not to eliminate where they sleep and spend time. Many dog crates are designed to grow with your dog and use dividers to make the crate smaller or bigger as needed. This way your puppy can spend time in a space that's just the right size for them, but you don't need to buy multiple crates as they grow.  
Crate pads make the crate more comfortable for your puppy and come in a variety of sizes to fit standard crate sizes. Our selection of Snoozer crate pads include Cozy Cave hooded crate pads and Forgiveness crate pads made with the same fully-washable materials as our Forgiveness dog beds – perfect for puppies who are still being house trained.
The Right Size Dog Bed is What's Right for You
Remember that there's no wrong answer here. You may go for a puppy-sized dog bed for a few months at first, or a full-size dog bed from the start, or a crate all the way. Ultimately the most important thing is that your puppy has a place to sleep that's safe and comfortable.
Read More Posts By Maple
Maple's a little older, but with age comes wisdom, and Maple is always ready with great life advice! He's seen a lot in his lifetime, and he's happy to be spending his golden years sharing that experience with others.