Checklist for Car Travel with Your Pet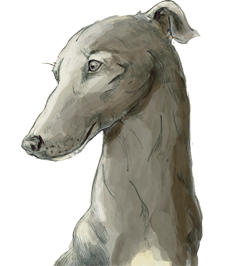 It's summer, and that means vacation time. It's the perfect opportunity to load the whole family in the car and hit the road. I know that some dogs don't like the car but I, for one, love a good road trip.
If you're road tripping this summer and taking your dog along, here's what you don't want to forget when packing.
The bare basics
–       Leash and collar with tags.
–       Food. If you'll be gone a long time, you can bring a large bag of kibble. If you'll only be gone a few days, you can pre-portion kibble into baggies to make it easy to grab one as needed. Don't forget some treats, too.
–       Food and water bowls. Bring your regular bowls from home or get a couple space-saving collapsible dog bowls instead. Get some bottles of water for drinks in the car or at rest stops.
–       Medicine. Bring enough medicine to cover the length of the trip and if you'll be gone for several weeks, don't forget to pack your pooch's flea and tick medication.
–       Essential information. Keep your dog's ID info, microchip number, vet's contact info, vaccine record as needed, and pet insurance details handy in case something happens.
–       First aid kit. No need for a special dog-specific kit; just check that the one for the whole family (which you already have in the car, correct?) has tweezers to remove ticks and moist wipes, gauze, and bandage tape for cuts at the very least.
In-transit essentials
–       A spot just for them. Provide a safe, comfortable place for your dog to rest on the ride and you'll all have a more pleasant trip. Small dogs love the Lookout by Snoozer, a raised dog car seat that clips in for safety and allows your dog to look at the world go by out the window. For bigger dogs, the Heavy Duty Reversible Car Hammock is a great choice. This machine washable cover protects the fabric and keeps your dog from slipping down in between the front and back seats.
–       A harness. A harness for the car that attaches to the seat belt system is about safety for both your dog and for you. Unrestrained dogs not only are more likely to be injured in an accident, but if they're anything like me they also have a tendency to try to join mom and dad up in the front seat, which distracts from the road.
–       Window shades. Even with the AC on, it can get hot for dogs in the backseat with the sun beating down on them. Shades for the backseat windows go a long way in cutting down the rays and keeping Fido comfortable.
–       Waste bags. You'll need bags to collect your dog's waste at rest stops and likely at your destination, too.
Creature comforts
–       Dog bed. New from Snoozer, the Home & Go Luxury 2-in-1 Dog Bed is a great solution for travel. At home, it's a comfortable bed with raised sides and a machine-washable cover. Then you can take out the middle cushion for a comfortable dog bed on-the-go.
–       Collapsible dog crate. Even dogs who don't spend much time in a crate at home may appreciate a place to call their own while traveling when everything is unfamiliar. If your dog's not a big chewer, consider a lightweight collapsible fabric crate. (See a post I wrote on choosing the right crate for your dog for more info.)
–       Familiar toys. Again, when everything is new, it's nice for your dog to have something familiar to chew, squeak, or cuddle with.
For even more on car travel right here on Snoozer, check out our top travel tips for road tripping with your dog, plus advice if you have a large dog and or a dog who hates the car.
Happy travels.
'Til next time, Beckley
Read More Posts By Beckley
Beckley was a racing greyhound until he retired at 2 1/2 years old and was adopted off the track. He's super fast when he wants to be, but he actually prefers to take it easy, napping on the most comfortable bed he can find!