Why do dogs pant in the car?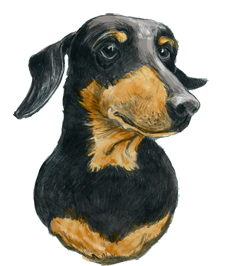 Dogs pant a lot, and they seem to pant even more than usual in the car. Some panting is normal, but excessive panting is a problem. Read on to discover common reasons dogs pant in the car and what you can do about it.

Common reasons dogs pant in the car
Dogs pant when they're hot
It's a widely known fact that dogs don't sweat the way that humans do. While humans have sweat glands all over the skin to help cool down, the primary way that dogs cool down is by panting. So if you notice your dog panting more than normal in the car, they could simply be too hot. Make sure the car is at a comfortable temperature, or blast the AC for a few minutes to quickly cool it down.
Knowing this, you can think ahead. If you're planning to take your dog for a drive on a hot day, turn on the car a few minutes early to let the AC do its job, or roll down the windows to let the heat out and fresh air in.
Dogs pant when they're thirsty
Your dog can become dehydrated when they're hot (see above) or if they simply haven't had enough water. It's easy to overlook water breaks when you're in the car for long periods of time, but they are very important.
Before heading out on a road trip, give your dog some water to drink, and offer clean, fresh water every time you stop for a bathroom break. Withholding water from your dog to reduce the number of stops you make is a bad idea; don't do it. Instead, plan ahead and build in time to stop about every two hours so your dog can stretch their legs, take care of business, and get a drink of water.
Dogs pant when they're feeling ill or in pain
Panting is a common first sign of feeling unwell in dogs. If you've ruled out heat and dehydration as possible causes of your dog's panting, consider motion sickness. Does your dog seem to feel unwell every time they're in the car? Talk to your vet about treating your dog's motion sickness with medication if it's bad or look into home remedies to help ease their discomfort in the car.
Likewise, acute or chronic pain can lead to panting. Check to see if your dog has any visible cuts or injuries, paying close attention to the paws to check for ripped toenails, bleeding pads, or anything stuck between the pads. Watch to see if your dog is moving or walking strangely (e.g., keeping weight off of one leg), as that could be a sign of a sprain or strain. If you notice anything that makes you suspect an injury, treat it yourself or get it looked at by a vet.
Dogs pant when they're stressed
"Behavioral panting" happens when the cause of your dog's panting is not physical, but psychological. Some dogs are just more anxious in general, while others get stressed out in the car. Look for other signs of stress and anxiety to see if this is the cause of your dog's panting, like yawning, licking lips, drooling, and not settling (standing up the whole time).
If your dog hates or fears the car, that can cause them major anxiety. Work with your dog to get them more comfortable riding in the car, especially if you have a long road trip coming up. Find out how in this blog about Travel Tips for Dogs Who Really Hate the Car.
Keeping your dog comfortable and safe in the car
To reduce your dog's panting in the car, you want to keep them feeling safe and comfortable. That means keeping the car at a cool temperature, regularly offering your dog fresh water, and addressing any stress or discomfort they feel from pain or motion sickness. You can also help them feel secure and settled by giving them a safe spot of their own in the car, either in an elevated Lookout Dog Car Seat for smaller dogs, or on a snug and secure Hammock Car Seat Cover or SUV Cargo Dog Bed for larger dogs.
Taking care of your dog's health, safety, and comfort will make for a more pleasant car experience for you and for them! 
Read More Posts By Maple
Maple's a little older, but with age comes wisdom, and Maple is always ready with great life advice! He's seen a lot in his lifetime, and he's happy to be spending his golden years sharing that experience with others.